Joomeez Nova, the latest creation from Miami based Mobile App Studio Virapps, comes packed at full speed with a variety of 100+ levels of adventure and excitement dispersed in over 10 unique worlds filled with speed, a dose of strategy and plenty of fun!
Joomeez Nova puts you in control of the JMZ-12 ship – A state of the art transportation unit equipped for interstellar travel. Your mission is to help Joomeez (an alien species introduced last year in the app of the same name) reach our planet to avoid facing extinction after their planet Timpa was destroyed by a cosmic energy storm. To accomplish this task you will need to fuel your ship with Novas. Novas are colored energy stars, that when mixed together in the same color pattern, create a tremendous amount of energy that translates to great speeds for any adventurous soul guiding a ship through the perils of space.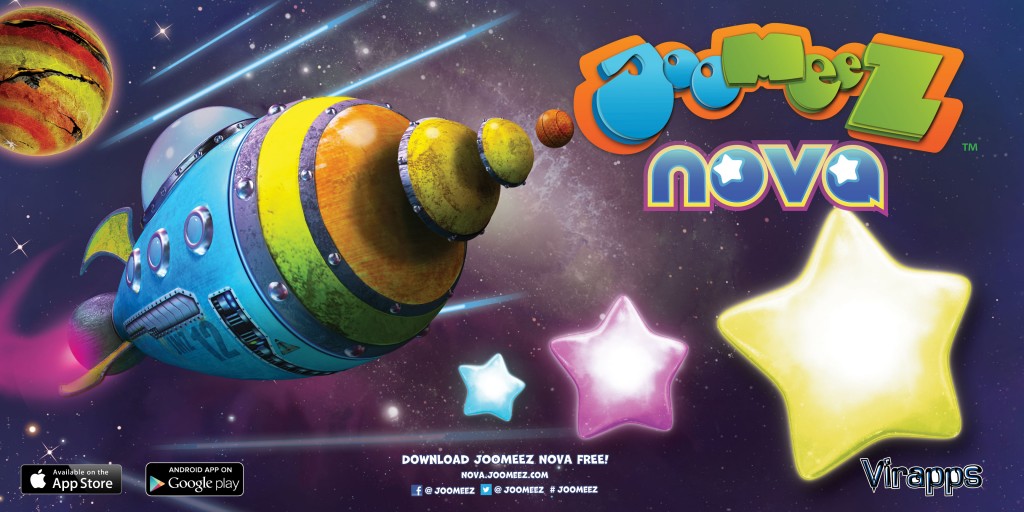 It is important to stick with the same color nova, for if you switch, it creates a combustion fluctuation resulting in speed loss and cosmic energy drainage as the ship adapts to the new source of energy.
With Joomeez Nova, Virapps looked to create the perfect mix of a game that is not only fun and quick to learn, but is also a game that offers an adaptive challenge and continuity for players that are on-the-go, as well as players that like to be more invested and master the game.
Game Features:
★Travel through more than 100 levels in more than 10 worlds to help Joomeez reach our
planet!
★ Collect novas and avoid obstacles! Build great combos and speed!
★ Find and use amazing power-ups to your advantage and avoid the power-downs!
★ Unlock more than 50 achievements and secrets including alternate ships!
Joomeez Nova will be available on September 20th 2013, with a Free-To-Try model, on the Apple App Store and on Google Play for Android.